ALL PRUCHASES ARE CONSIDERED A DONATION FOR THIS YEARS 2021 TAXES!!
USE EIN # 27-2503684 FOR YOU DEDUCTION ON ANY PURCHASE.
Echarity's is a Non-profit 501 (C) (3) , DBA Familiar Savings.  This online store helps fund our goal of providing transportation for low income families.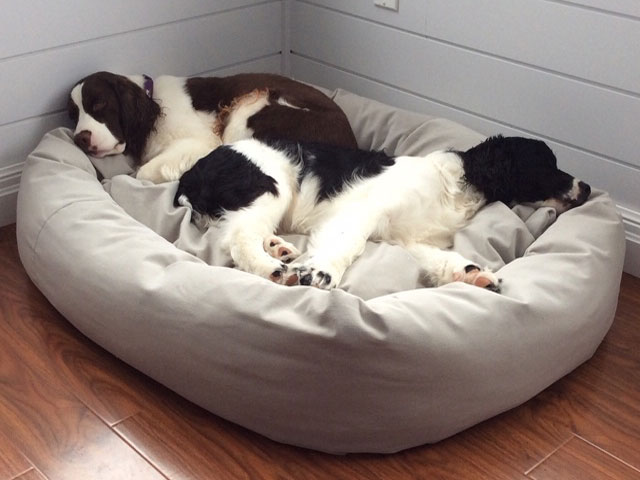 Weigh Then Measure Your Pet While Sleeping
First pay attention to how your pet sleeps. If your pet sleeps stretched out, measure them from nose to tail. Add about 8 to 12 inches to determine the size of pet bed you will need. This is to accommodate your full-grown pet, if your pet is still a baby then you will need to add extra space to allow for growing. Also, you can add additional blankets, sheets, or pillows to a larger bed while your pet is still a baby.
If you have a larger, heavier pet the thicker the cushion will need to be. This will help prevent cushion squash, which could be just like your pet sleeping on the bare floor.
Special Needs and Important Features
If your pet is older they may need to have an orthopedic bed to help ease their pain. Orthopedic beds are made of high density memory foam to help conform to your pet's shape and help offer comfort from sore joints or arthritis.
You many want to choose a heated bed for pets that are prone to being chilly or are short haired or you live in a cold climate.
If your pet likes to feel more secure, then choose a more cave-like bed where they will feel safe. This will be a good idea if your pet likes to hide to go to sleep, or goes under furniture to sleep. There are many shapes and sizes of these special beds.
Look At Washing or Maintenance Instructions First
It is most important to be sure to check if the bed for your pet will be easy to clean. Let's face it, our pets are not always tidy creatures, so it is much easier and less expensive to purchase a bed that you can just toss into the washer and/or dryer. Beds do need to be cleaned every week or two, to help with odors and dirt. Cleaning can also help with fleas. I found washing pet beds in baking soda and vinegar is the best for removing odors in the wash.
What Style or Color Should You Choose
Look at what best fits your decor in your home. Pet beds have come a long way, and there are as many different styles of pet beds as people furniture. Once you have conquered choosing the right size, then the options are unlimited, you can choose to match your decor for color and style, or go a completely a different route. Make it a fun choice, all of my pets have specific colors and all their bedding is in that color family.
How Much To Spend
An estimated 17.8 Billion (yes, BILLION) dollars will be spent in the year 2018 on various products for pets. We as owners want our pets to have the absolute best of everything, but it is easy to go overboard (as I often do) with purchasing a pet bed. Try to have a budget in mind before looking at pet beds and stick to it. Remember that this will likely not be a one time purchase, since beds will need to be replaced for wear and tear.
Marlys has had animals all her life. Has worked as a pet sitter and walker, and also in grooming. She also helps run a website dedicated to the love of luxury pet beds. Please come visit and take a look around!
Article Source: https://EzineArticles.com/expert/Marlies_Ricalzone/2553085